Ladies, I'm hosting an event and you're invited, it is called Breathe! This Breathe women's event will be held Friday, November 14 • Christ Journey • Gables Campus • 6p
Breathe is an interactive environment where women of all ages can relax, connect and be challenged with a gender specific message. Writer and speaker Angie Mabry-Nauta will be our special guest. She is the creator of a workshop called " I love you mom, but…" where she addresses the myths of motherhood and how to move forward in faith from a strained mother/adult child relationships.
I am so excited to hear her encouraging words as she will be sharing a challenging message and reminding us what it means to be a woman of noble character.
This is an event you don't want to miss.
Here's the schedule:
VIP Hour • 6p
Flash Tatoo bar, polish changes by Christie Pea Nail Spa & a braid bar/hair touch-ups by JFM Beauty!
Dinner • 7p • Glazed pork loin, roasted potatoes, salad and a delicious dessert.
Speaker • 8p • Angie Mabry-Nauta • Gables Campus Auditorium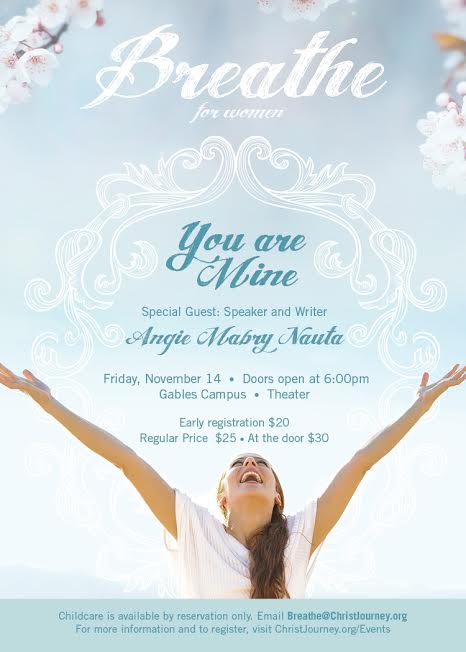 Regular price • $25
At the door •  $30
Cost includes dinner and childcare.
You can expect a delicious hearty meal and some quality girl-time. If you come early, maybe even some early VIP treatments.
Reserve your spot and register today!
For more information, email Breathe@ChristJourney.org.
Want to attend but not sure your friend will join you? No worries, we've got you covered! Enter to win 2 tickets for you and your bestie. Winners will be announced Thursday. See you soon!
* Childcare is available by reservation only. Please, make all reservations no later than Nov. 10.