I don't know if you've noticed, but Moscow Mules have totally made a comeback!
This classic cocktail, also known as a Vodka Buck has been around since the 1940's. I'm not sure if it's the ginger beer or the copper mug that draws its fans… But this drink has been all the rage these days.
Since I'm not a big fan of vodka, I decided to make my Moscow Mule with a twist, I swapped out the vodka for some Cruzan Premium Aged Rum. PS: Apparently, I'm not the inventor of this drink, it's actually a thing — if you replace the vodka for rum it is called a Dark 'N' Stormy. And if you substitute the rum with bourbon, it is called a Kentucky Mule. I guess it's just a matter of preference.
With ginger beer as the base, this cocktail can be made so many different ways. If you enjoy the classic minty taste then fresh herbs are the way to go. However, if you want a tangy fruity-flavor you can add pomegranate, strawberries and even watermelon. As for the spirit, I always prefer a good rum. The spice of the ginger beer and the richness of the rum gives it the perfect taste! Depending on the type of rum you use (light or dark), feel free to play with the proportions.
I decided to keep it tangy and fresh! I invited a couple of friends over and this little cocktail was the start to a great weekend. Ready to make your own?
Here's what you need for your Moscow Mule with a Twist a.k.a Dark 'N' Stormy:
2 cups of ice
2 ounces of Cruzan Rum
4 to 6 ounces of ginger beer
1/2 ounce of fresh squeezed lime juice (keep a lime for garnish)
2-3 mint sprigs
a splash of simple syrup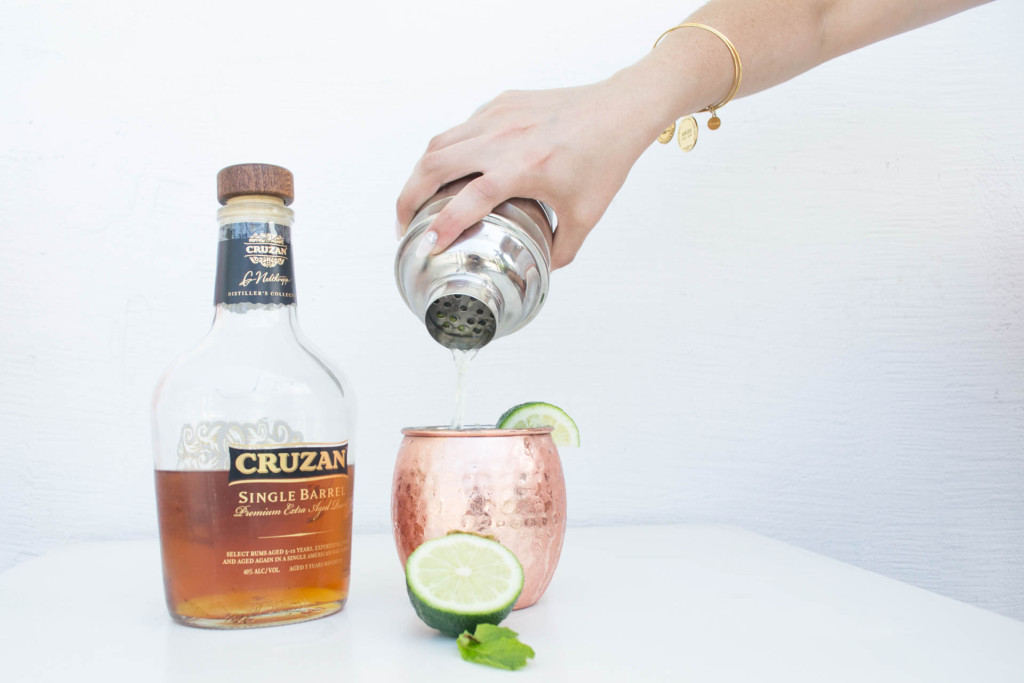 Combine ice, rum, ginger beer, lime juice, simple syrup and a few mint leaves in a shaker.
Mix well.
Pour cocktail into copper mug. (Served on ice if desired.)
Add fresh mint sprigs and lime wedges as extra garnish.
Enjoy!