THE BEST PHO YOU!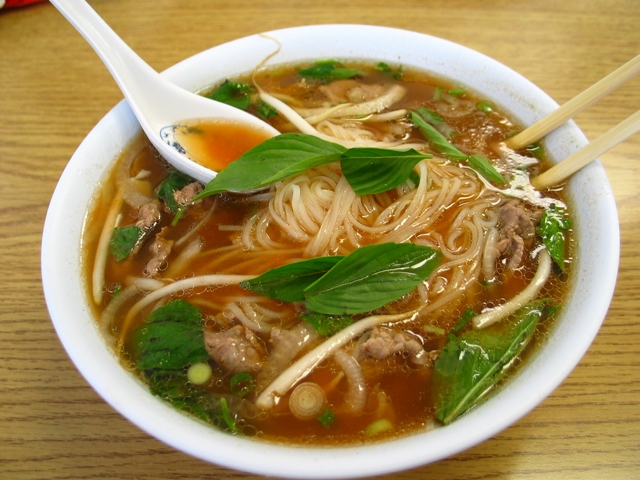 Don't worry, I haven't totally lost my grammar skills, nor did I begin to write slang…
Pho (pronounced "fuh") is a delicious "street-style" Vietnamese soup made up of meat and broth (chicken or beef), rice noodles, and savory spices. This soup is usually topped with fresh bean sprouts, basil, mint, and a hint of lime.
So, why exactly am I ranting about Pho?
Well, one, because it's delicious… And two, because it's great for chasing away those unwanted winter flu bugs going around.
I know, I know, abuela taught you to eat your "sopita de pollo cuando tienes catarro o estas resfriado," but if you're too sick to cook… I suggest you try out this alternative soup. Pho is hearty, healthy and scrumptious; and after today you'll know my favorite and the best Pho restaurants in Miami.
Miss Saigon Bistro (2 Locations, Coral Gables & Pinecrest)
148 Giralda Avenue
Coral Gables, FL 33134
Phone: (305) 446-8006
Hours: Mon. – Fri. (Lunch 11:30am – 3pm) (Dinner: 5:30pm – 10pm)
Hy Vong Vietnamese Cuisine
3458 Southwest 8th Street,
Miami, FL 33135
Phone: 305 446 3674
Hours:  Wed. – Sun. 6-11pm
Asian Fusion Cafe
17043 South Dixie Highway
Palmetto Bay, Fl 33157
Phone: 305-278-6888
Hours: Mon. – Thurs. 11am to 10pm
Friday – Saturday 11am to 11pm
Moonchine Asian Bistro
7100 Biscayne Blvd.
Miami, FL 33138
Phone: 305-759-3999
Hours: Mon. – Thur. Sun – 11:30 am to 11 pm
Fri.- Sat. – 11:30 am – 12 am
3 Chef's Chinese Restaurant
275 NE 18th St.
Miami, FL 33132
Phone: 305- 373-2688
Hours: Mon. –  Thur. – 11:30 am – 10 pm;
Fri. – Sat. – 11:30 am – 11 pm; Sun – 1 pm – 10 pm
Ready to place your order and say goodbye to the flu? Here are a few tips before you begin…
Be sure to spice up your broth. The restaurant should bring you a separate plate with sprouts, mint and lime. Add it all!
Taste it to perfection. Once you're done adding the herbs and veggies, be sure to also add a little bit of Sriracha (red chili pepper sauce) and Hoisin sauce (black plum sauce.) Taste it as you go along, that's half the fun.
Last but not least, use a fork to help you eat the delicious hearty meats and noodles, but don't forget to sip the wonderful broth in between bites.
Mmmm, now I'm hungry. Enjoy your Pho!
Image Banner Source: thesunblog.com