GIFT GUIDE FOR HIM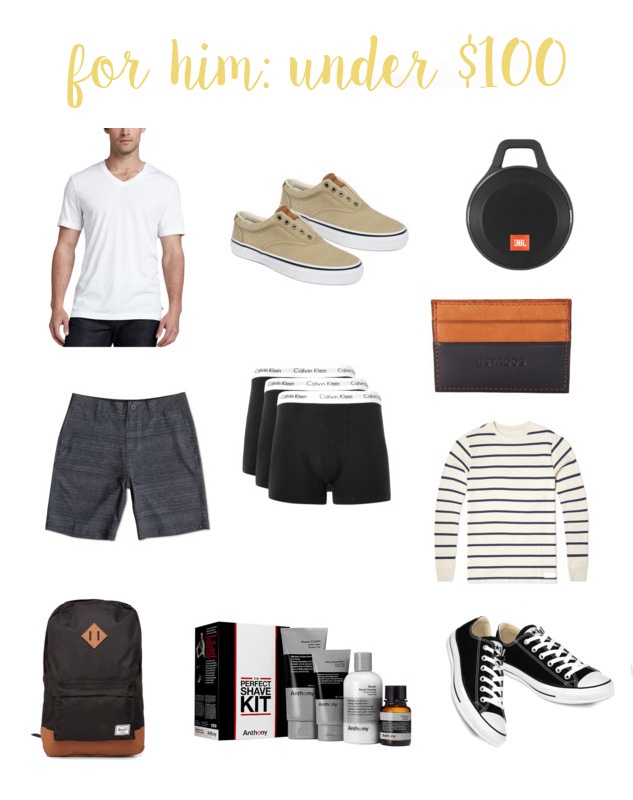 Whether you're shopping for a significant other, dad, cousin, brother or friend buying gifts for men can actually be pretty daunting.
In fact, most men I know don't even like surprises — they are problem solvers, doers that know exactly what they want and need. I was actually talking about this with a friend, she was telling me that whenever her fiancee shows interest in something, he actually ends up buying it for himself within days.
My husband on the other hand never wants or needs anything. I kid you not, them man could easily go a year (or two or three) without buying himself anything. Not because he doesn't like shopping (which he of course doesn't) but because he really could care less about material things.
So, if both of these men are at two different ends of the spectrum, how is anyone supposed to know what to buy them?
Here's a tip…Ditch the boring tie, socks and flashlight idea and checkout this helpful Gift Guide for Him Under $100.
How do I know these are gifts they'll love, you ask? Let's just say I did a little research and asked a few of my male friends… Dads, techies, nerds, sports fans, stylish dudes — I asked them all. Don't worry, I got you covered!
Here's what they want for Christmas:
Some of the suggestions I got didn't quite fit my Gift Guide for Him Under "$100 category" but during my extensive research ;) I also learned that since most men don't shop throughout the year, when they do want something it isn't cheap. So, in case you want to treat him to something extraordinary this year? Here are a few additional kick-butt options: