GIFT GUIDE FOR HER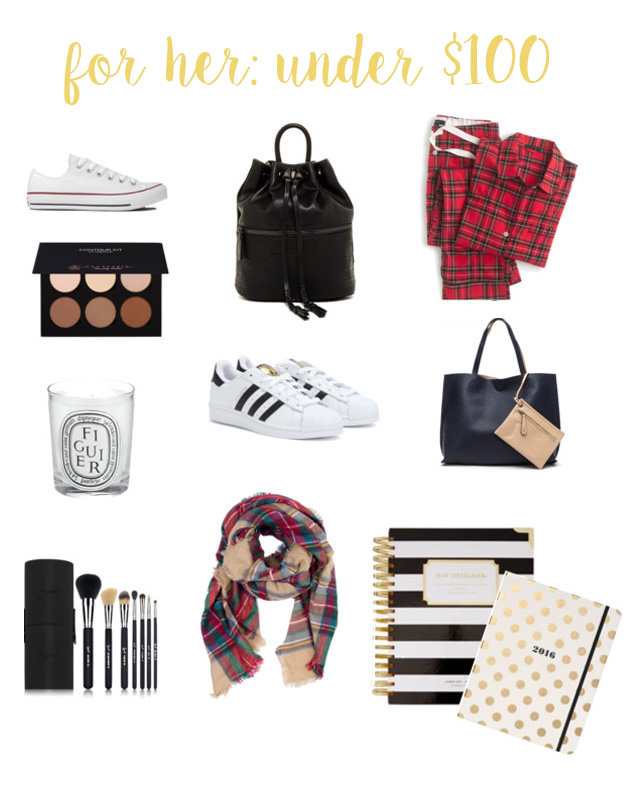 Happy December, friends!
Christmas is just weeks away. Crazy, huh? Insert wide-eyed emoji here. I'm sure that by now most of us are making lists and checking them twice. Not to see who was naughty or nice, but to figure out who's on your gift list.
If you're anything like me, you make lists for everything. Grocery lists, to-do lists and of course that includes gift lists.
A gift list helps you make sure that you've accounted for all of your family and close friends, and it also helps you set a budget. Ah, yes a handy-dandy budget to ensure there are no post-holiday surprises.
Give it a try. Make a list of names, set a per/person budget and see if the total sum is something you can actually afford. After all, gift giving isn't about what you give but how much thought and love you put into giving.
And just like last year, I'm here to help you pick out a gift she will surely love. Here are 10 gifts for her under $100.
PS: You can skip all the hustle and bustle and buy all of these items online. Just click on the images below for more info. Enjoy!
GIFT GUIDE FOR HER UNDER $100:

Totes make such great gifts, they're useful and cute! Plus, this one is super affordable and reversible. You pretty much get two for one! PS: They come in a ton of different colors.
The good ol' blanket scarf, great for winter days and for impromptu picnics. ;) You can even go the extra mile and get a monogrammed one here.
Word on the street is that good makeup brushes are key to flawless makeup. But good brushes can also be pretty expensive. Want to spoil your make-up junkie girlfriend? Get her the Best of Sigma Brush Kit!
You can never go wrong with a good pair of casual sneakers. Whether they're the classic Chucks or Superstar Adidas. They go with everything and they are totally in! Your stylish gal will thank you! And they're also mommy and errand friendly! ;)
Okay, before you ditch my $32 Dyptyque candle idea out the window, have you ever smelled them? They smell heavenly and they last forever. I'll admit it, these candles are a splurge but they make a great gift. And if your girlfriend knows good candles, she'll be ecstatic to receive one.
With a new year just around the corner, a planner is always a great gift. If your lady is a neat freak, loves lists and always writes things down on her calendar, these adorable Kate Spade planners are a must!
An on-the-go lady is ready for anything that comes her way. She not only looks put together but is also ready to save the mishaps of others around her… Probably because she carries everything in her purse. So why not add this awesome backpack to her collection? That way she can be helpful, productive and fashionable!
Doing good make up and getting just the right amount of contour takes practice. But, if she has this Anastasia contour kit she's pretty much set.
Last but not least, every lady needs a set of comfy pj's. We don't always want to be dolled-up, sometimes we just want to watch Netflix and chill. Give her a day of rest, awesome pajamas and you're winning!
Hope this gift guide was helpful! Stay tuned for his…