COOL KIDS AND COOL KICKS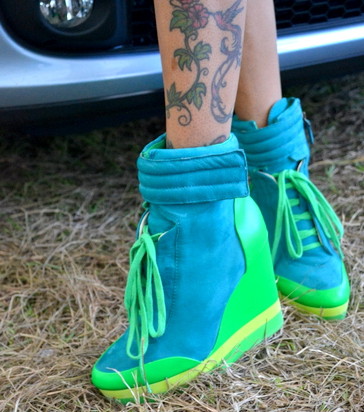 After yet another fun-filled week at Art Basel, I've come to realize that fashion, like art, is what you make of it.
There are two options:
You can choose to follow trends/play it safe and wear high-end name brands and call your self "in style or trendy."
Or, you can wear whatever your heart desires (name or no name, in style or not) and wear it with confidence and actually make a statement! That my friends, is what this post is all about, outside of the box fashion.
Oh, and I won't be telling you who or what they're wearing, but rather why…
So, here are some cool kids and some cool kicks…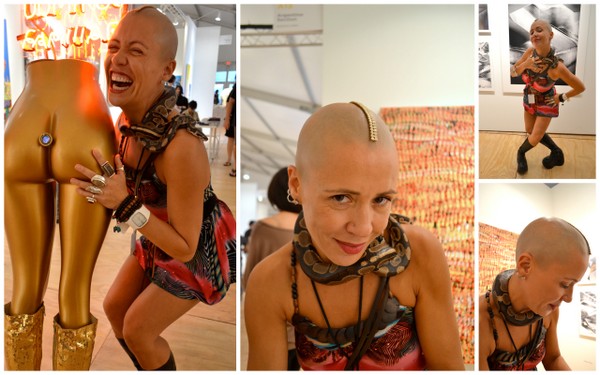 Meet Milcho, aka Veronica Milchonera. Milcho was not only an artist showcased at Scope, she's also a talented director, producer, and now a local with flair.
Her outfit is inspired by originality and a different perspective. Much like her art work called Domingo Familiar, (the mannequin pictured on the left) which is meant to portray a lack of parental control in our society. As you take a look into the peep-hole you'll see a family watching television and their TV reflects your face peeping through a booty. Hmm, needless to say, it was an interesting perspective…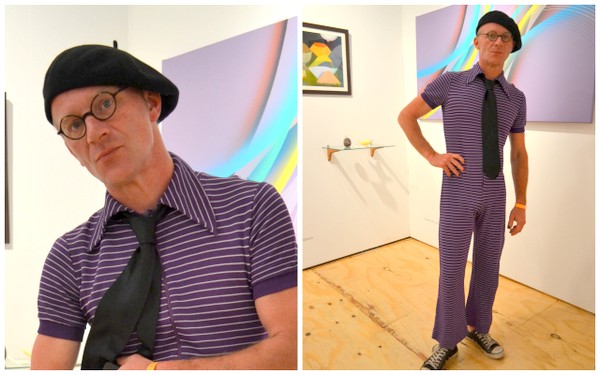 This gentleman's name is Hoke. I spotted Hoke browsing through some art and found his look to be very original.
When I asked him what inspired his look he said, "Comfort! I actually didn't know what to wear and I got this out of my giveaway pile."
Well, glad you kept it, Hoke, your confidence and accessories totally put together a look like no other.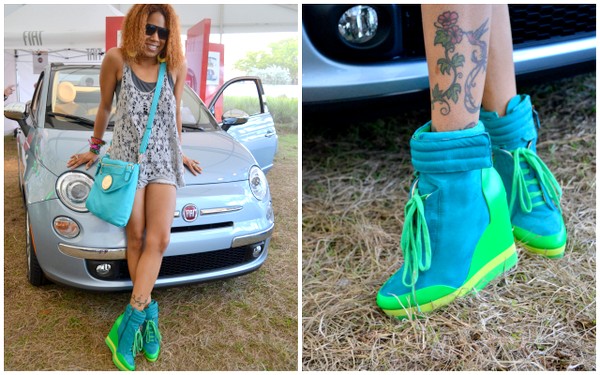 Check out Wendi Hill's kicks! Not only is Wendi totally rocking the wedged sneaker trend, but the color-blocking and brightness takes the trend to a whole new level. Wendi's look is inspired by "being green," in both aspects of the word, the color and the eco-friendliness.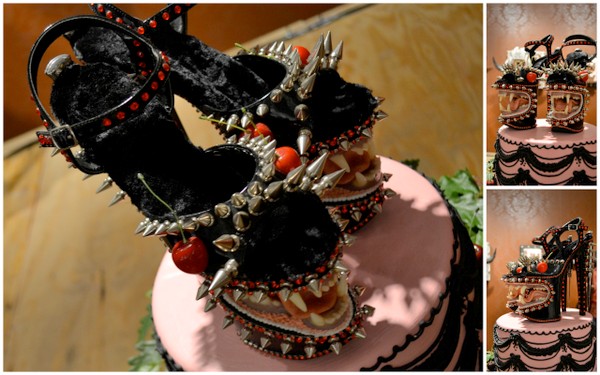 Now, I know these aren't considered "kicks". And don't worry, no one was actually walking in them… (Maybe because they're not on sale.)
But how could I resist posting these crazy shoes? This unique work of art was created by a self-taught artist from San Francisco by the name of Scott Hove. M. S Hove's Cakeland concept began in 2005, and this specific creation is called Self Objectification Strategy.
What inspired him? A desire to experiment with mixed media and "an obsession with the relationship between the beautiful and the brutal."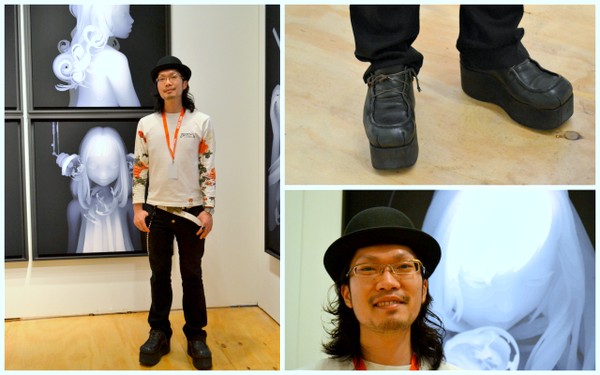 Did someone say men can't wear wedges?
Kazuki Takamatsu, an artist from Sendai, Japan wore wedges with absolutely no fear. He hardly spoke English, so it was quite a challenge to figure out what his inspiration was. But he gladly took a picture standing in front of his work… and from what I could gather, his affinity for black and white goes far beyond his paintings.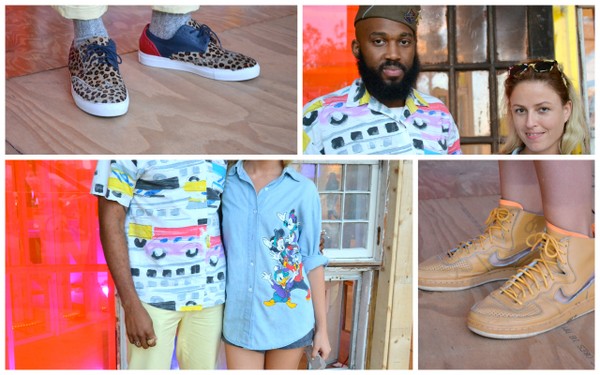 Last but not least, on my way out I ran into this very cool-looking couple. Their look was inspired by a vintage feel and a mix of colors and patters.
So you see, fashion is definitely a form of art. It takes not only talent but also bravery and confidence to wear what you want to wear and make it work! You don't necessarily need tons of money, just creativity and a new perspective. So remember, wear what makes you happy and wear it well. ;)