I met a real life princess! Member of the French royal family, Princesse Marina de Bourbon and she was as sweet as can be.
Marina de Bourbon was married to a descendant of the Bourbon dynasty, one of the oldest and most traditional families of France who reigned during 1553 to 1848.
The Princess made her way to South Beach to exclusively launch L'Or de Marina, in celebration of her namesake brand's 20th anniversary. We met over a cup of tea to chat about her new fragrance, here's a peak at our one-on-one conversation…
When creating the fragrance what kind of woman did you picture wearing the scent?
A beautiful happy woman that is filled with joy. She's free-spirited and definitely not a complainer. She is a joyful and sophisticated woman who appreciates the journey of life. 
Why fragrances?
It's a luxury. It's a luxury that anyone can wear. You don't see it but you smell it. Nobody sees it but it's sort of a mystery and your own little secret.
Tell us a little bit about the name L'Or de Marina…
Well, Marina is my name and L'Or is gold. Hence the name of the perfume is Marina's gold. Gold is rich, it is elegant and I'm sharing it with the world. Plus, the name Marina generates happiness and good luck. In fact all names that finish with the letter "A" are good luck.
What is something that you think the Miami crowd would like to know about the fragrance?
If you take some time to smell the perfume you'll find a hint of guava. I'm hoping it brings some familiarity to this culture. Plus, I consider myself to be a hard-working lady of passion just like the people of Miami.
Why did you exclusively choose Miami to launch L'Or de Marina and celebrate the brand's 20th anniversary?
Miami is such a joyful town. It is always so sunny and filled with life. I think everyone that is here should stay here and wear my perfume! Plus, the weather is beautiful!
Well, we are so excited to have you here in Miami to celebrate along side of you! But if we decide to go visit Paris, where do you recommend we go? What are your favorite places?
The Louvre and the Palace of Versailles are a must! Antique stores are also great. As a hobby, I personally used to spend a lot of time restoring books. I found great joy in it!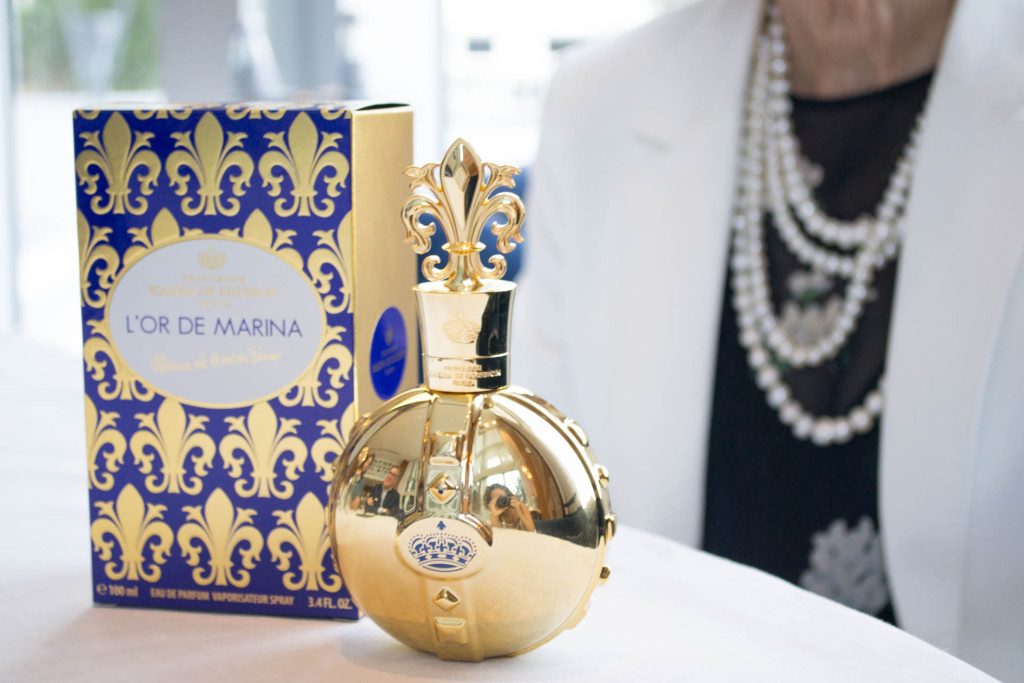 A real gem,  L'Or de Marina retails for $150 and is available at Alberto Cortes (272 East Flagler Street, Miami FL 33131). The fragrance is filled with a bright burst of floral scents like white flower, lilies and fresh roses. A mix of exotic fruits, cedarwood and white pepper to entice your loved one. L'Or de Marina is her most luxurious and valuable fragrance to date!