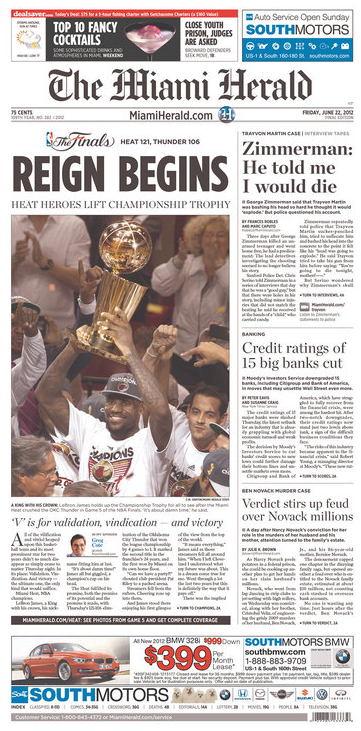 That's right, our Miami Heat are the 2012 World Champions!!!!!
Last night (June 21, 2012), Miami Heat teammates celebrated their best game thus far: They are officially the proud champions of the 2012 NBA Playoffs.  This hard-working team won their championship title against the Oklahoma City Thunders with a final score of 121 – 106.
Just two years ago, Lebron James faced the tough decision of either staying with his former team, the Cleveland Cavaliers, or heading down to play for the Miami Heat. Looks like his decision finally paid off, the king has a ring!
James, 27, is not only a champion, he was also named the NBA Final's MVP.
"It's about damn time," he said after being presented with his trophy.
The Heat dynasty: Lebron James, Chris Bosh, and Dwyane Wade were an essential part of the win. James scored 26 points, 11 rebounds and 13 assists. Bosh racked-up 24 points, and 7 rebounds, while Wade got 20 points, and 8 rebounds.
"We never thought of it as the Big Three," coach Erik Spoelstra said. "That was the theme outside, but we knew other guys would have to contribute. This was a perfect example tonight. Everybody stepped up, Shane, Norris Cole, Mario Chalmers, Mike Miller, the list goes on… Udonis Haslem. Everybody had to sacrifice something, but the guys who had an opportunity to choose to come here, they sacrificed… That just doesn't happen…very often. And that's why this is a special group."
"We love you Miami, thank you for your patience," said Spoelstra.
But right now, it's a mutual love for Spoelstra, regardless of all the "heat" he got this past year, he still played a vital role in helping our Miami team. And we love him back!
Last night, pure adrenaline filled the arena and the streets of Miami, as fans celebrated in true Miami-fashion, casuelas and all! Noise-makers, pots and pans, fireworks, and loud music set the mood after Game 5. And the celebration isn't over yet…
After this big win, it looks like Miami fans will celebrate all weekend. However, be sure to save some energy for Monday, June 25, as the Miami Heat Parade hits the road.
When: Monday, June 25, at 11am
Where: It begins at the corner of SW 2nd Avenue and Calle Ocho (SW 2 Ave. & 8th St.) The parade will head north and travel down Brickell Avenue, Downtown, and end at the American Airlines Arena.
Enjoy the celebration and be safe!