CALLING ALL FOODIES

Calling all foodies… Do you consider yourself a foodie?
According to wikipedia, "a foodie is a person who has an ardent or refined interest in food." Foodies not only eat for nourishment, but rather they seek the thrill of an experience in a meal. Ahh yes, the pleasure of a delightful meal…
Lucky for you, Miami is the place to be and February is just the right time. This month, it is all about mouth-watering flavors, festive music and just the right amount of Miami flair!
Get your calendar, and get ready to save the date.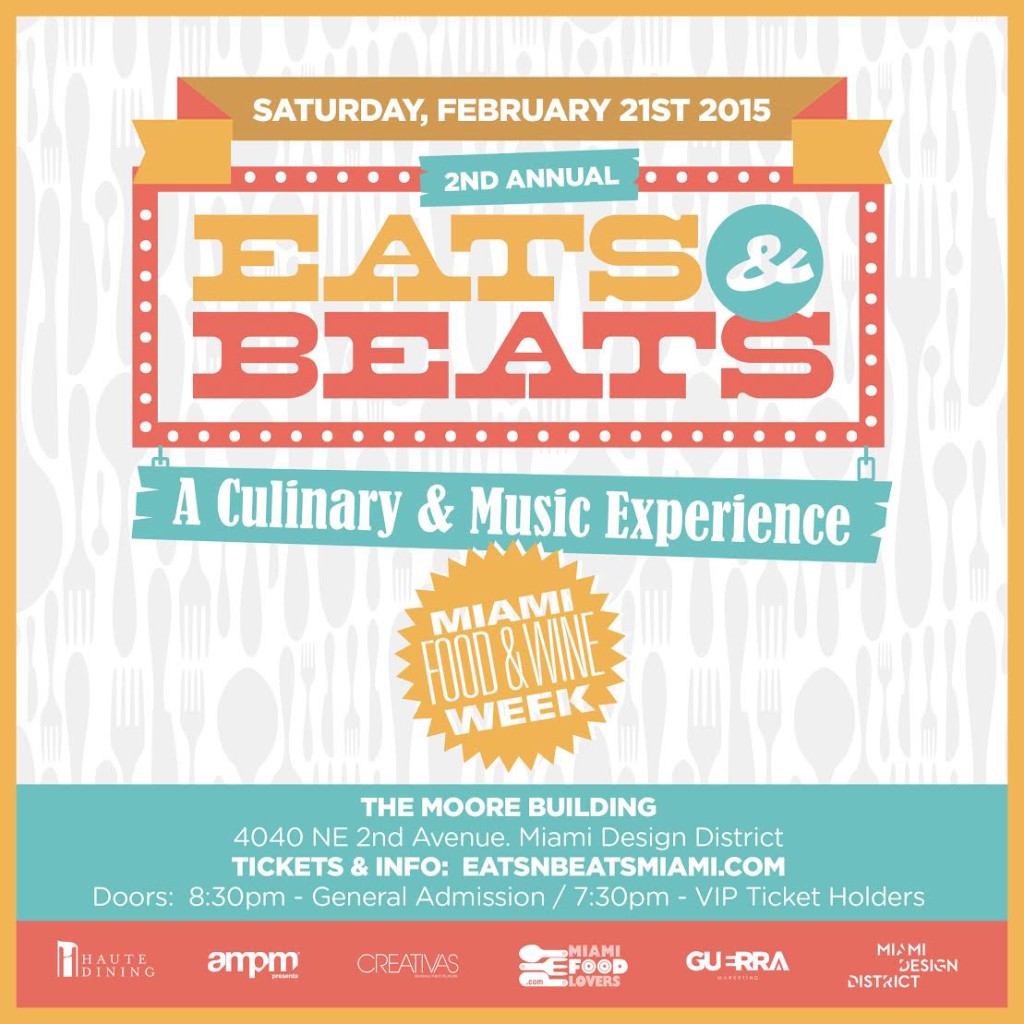 Saturday, Feb, 21 is the 2nd annual Eats & Beats festival. If you're looking for an event "by locals, and for locals" this is the place for you… Get ready for some amazing food without the overly "fancy shmancy " red velvet rope feel. Eats N Beats is focused on food and fun. It will surely satisfy your cravings with delightful tastings, fun libations and the best desserts our city has to offer. Event coordinators say "the goal was to create an event that will not only satisfy the palate but also stimulate all of the senses."  The event will showcase some our city's top culinary and musical artistry. And don't forget those beats – as  local DJ's set the scene with fun jams by some of Miami's best bands and DJ's. Tickets are going fast, register today.

The fun doesn't end there… Sunday, Feb. 22 the sandy beaches of Miami Beach transform into the biggest food festival in town. The Miami Beach International Foodie Festival offers tastings from all over the world and great entertainment for all, even the little ones. The event will include music, live comedy, even bounce houses and hot rods — there is definitely something for everyone. What can you expect? Food, food and more food! After all, it is called a foodie fest. Come hungry and ready to taste goodies from top chefs. Bring the kiddos and get ready to delight your taste buds. You can purchase tickets today, general admission is $40 and VIP tickets are $100.

Oh, did we forget to mention Flair Miami is giving away tickets to our favorite foodies? Comment below and tell us what makes you a "foodie".

Don't miss your chance to join the fun and delight in some of the best dishes and libations our city has to offer.  Register below for a chance to win. See you soon!