6 WAYS TO ENJOY THE LAST DAYS OF SUMMER
I know what you're thinking, school is back in session and that must mean that summer is officially over!
Allow me to give you a small glimmer of hope… Summer is still here! And though we may very well be entering its last days, you technically still have till September 23 till Fall officially begins.
So why not make the best of it? Here are 6 ways to enjoy the last days of summer:
Soak up the sun and spend some time outdoors. I know the sun isn't everyone's best friend, but a little vitamin D can actually be good for you. Pick a good book and plop down on the beach, or at a park. You'll be glad you did.
Book a last minute weekend getaway. I'm sure that traveling is easier when the kids are out of school. But did you know that it's also more expensive? Rates tend to go down a bit once the kiddos are back in session. I know it's easy to let busyness get the best of us, but don't let it! Weekends are meant for rest and relaxation not errands. Go ahead, seize the weekend and book a quick and easy vacation. Maybe you can even make it a road trip?
Watch a sunrise/sunset and snap a few pics. What it is about pink and orange skies that make them so refreshing and breathtaking? Maybe the fact that no human will ever have the power and ability to replicate them? The sky is God's perfect canvas, so pick a time and day to just admire God's perfection and His wonderful creation.
Make your favorite summer recipe. Think back to your childhood days… What did you love making? Did something come to mind? Whether it's a homemade ice cream or your favorite smoothie. Replicate it and sit back and enjoy.  Growing up, my sister and I loved making a no-bake strawberry mousse pie. Maybe I'll make it and share the recipe soon.
Have lunch outdoors and take a walk. A good meal is always a good mood booster, pair it with a pretty day and a breezy walk outdoors and you're set.
Wear something bold! Whether its a citrus lime or a bold blue, wear something that pops. Bold colors, patterns and necklaces are perfect for the summer.
This weekend, the hubby and I got started on our list. We had an outdoor brunch and enjoyed a walk around our neighborhood. Oh and I kind of did #6, I wore an awesome bold statement necklace from our friends at Happiness Boutique. (PS: They offer free shipping world-wide!)
How will you seize the last days of summer?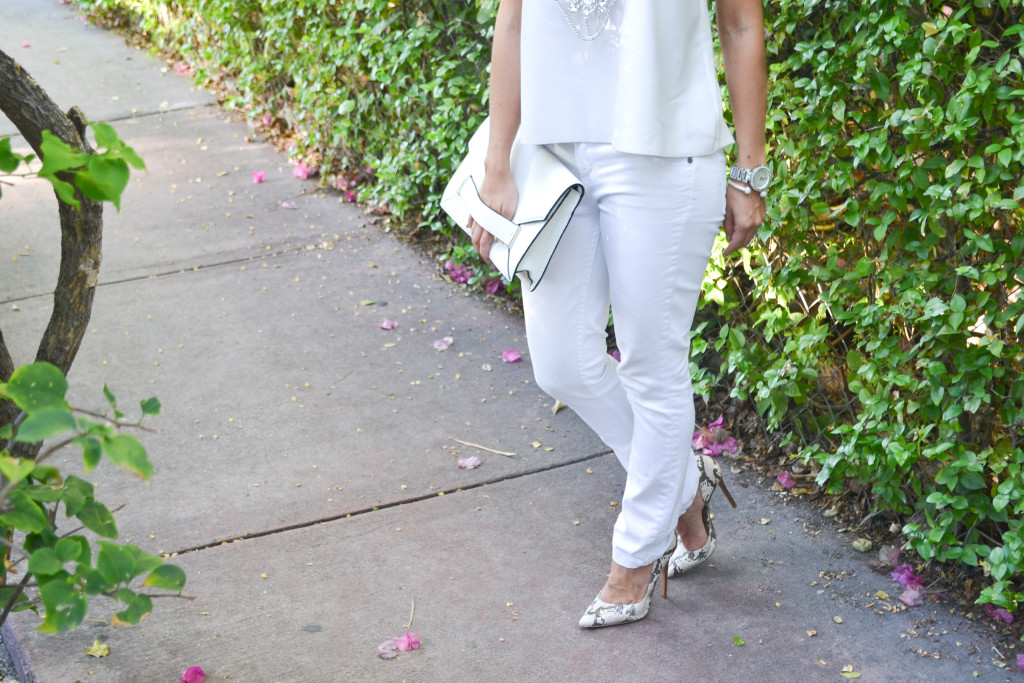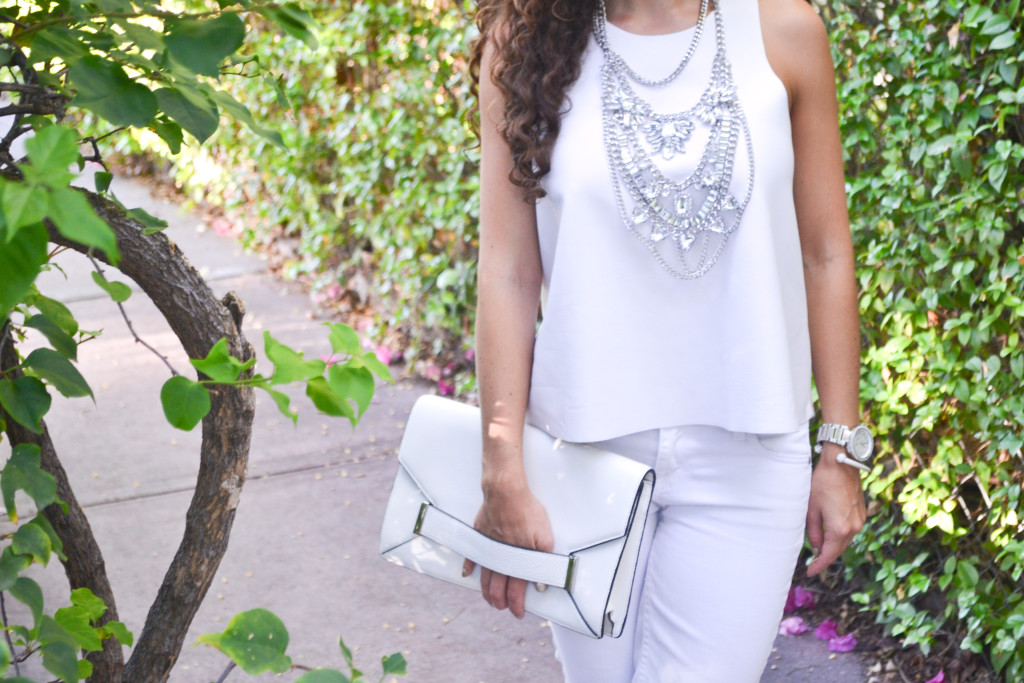 ZARA top
VINCE jeans
MICHAEL KORS watch
NINE WEST pumps (sold out)
ZERO UV sunglasses
clutch c/o NINE WEST
statement necklace c/o HAPPINESS BOUTIQUE